Helpful information to get you started
SERVICES PROVIDED
We offer Installations starting at $85.00 prices vary depending on vehicle, Removals starting t $85.00 depending upon device location, and Re-calibrations for $20.00.
Why choose Intoxalock for IID and 24/7 requirements
One of the many reasons to choose Intoxalock as your provider is the savings and convenience that our advanced technology models provide to customers. The Intoxalock eLERT24 combines two features – an IID that can also provide 24/7 monitoring. With this Intoxalock model, you have to lease only one device to meet those two requirements. Other companies make devices that can only provide one of these functions, requiring you to lease two separate pieces of equipment to be in compliance with your state requirements.


What is an ignition interlock device?
Most people are required to install an ignition interlock device after a drunk driving conviction. Even if you are unfamiliar with what an ignition interlock device is, they are extremely common and have probably been used by people you know and love.
An ignition interlock device, often referred to as a car breathalyzer, is a small, hand-held breathalyzer that is installed in your car. The device has a mouthpiece in it that you will blow into before starting your car.
With a clean breath sample, you'll immediately be able to start your car.
IID Features:
One-button activation
Fuel cell technology to provide reliable, accurate results
LED screen that displays your breath alcohol content (BrAC) reading 
Heat, cold, and tamper-resistant
Easy to use with simple breath pattern — no humming required
24/7 customer support via the Intoxalock mobile app, the Intoxalock website, chat, and Customer Support phone line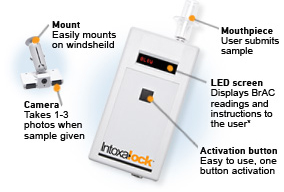 Contact INTOXALOCK
We've got you covered
Call (888) 283-5899 today to talk to a state specialist.
Our state specialists are ready to answer your questions and get you through the process, one step at a time. It takes less than 10 minutes.